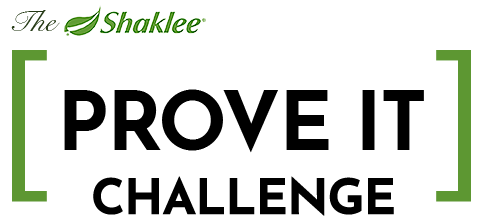 More Energy, Better sleep,
Healthier. In 30 days,
guaranteed.
Take Shaklee's Prove It Challenge and feel healthier, more rested, more energized, more focused in thirty days. Guaranteed.
Purest products.
The #1 Nutritional company since 1956 is so confident, they offer this challenge at one-time significant discount. Best products, significant discount, and guarantee: What do you have to lose?
We Guarantee it.
If we haven't made a believer out of you in 30 days, we'll give you a full refund, even if the container is empty. No questions asked.
Limited Time Offer
Unlock Your Full Potential. Say Hello to THE NEW YOU
It's all in there. Your body has everything it needs to prosper. It just needs a little encouragement. And so, this challenge.
Plus, at the end of 30 days, if you don't love it, we'll give a full refund. No questions asked.
We're that confident.
Begin with a seven-day, vegetable and fruit cleanse.
Then, adopt a healthy nutritional routine: replace one meal with a Life Shake™ and take a Vitalizer™ strip
Give your body the nutrition it craves.
Customize your kit to your preference: Vitalizer™ for Women, Men, Gold; Life Shake™ in Plant, Soy, Stevia-free.
Feel amazing in 30 days -- guaranteed!
The Science Behind the Challenge